Participate in the monthly individual Challenges to help keep you moving and reaching your step goals. Choose the journey that suits your activity levels and log your steps to reach the Challenge goal.
A new Challenge every month!  
Our Monthly Challenges are free to join and let you choose a journey that suit your activity levels. You will stay motivated throughout the whole month as you watch your progress towards your goal! Need a little more incentive to keep moving? Every Australian member who completes their Challenge will go into our monthly draw to win a pair of Asics shoes generously donated by Asics, or a Garmin generously donated by Health Management Group! Full T&C available here.
---
JOIN THE MAY CHALLENGE:
Already a 10,000 Steps member? Choose your national park journey for May.
NOT a 10,000 Steps member yet? Sign up for free now.
---
May Challenge - Queensland National Parks - Great Walks
We are excited to bring you a special monthly Challenge this May. In partnership with Queensland National Parks, we are challenging you to think outside and move towards a healthier, happier you!
Join us as we move more every day and celebrate exploring Queensland's breathtaking Great Walks and national parks - virtually! Whether you are walking, wheeling or shuffling, every move counts and every challenge completed gives you an entry into the prize draw!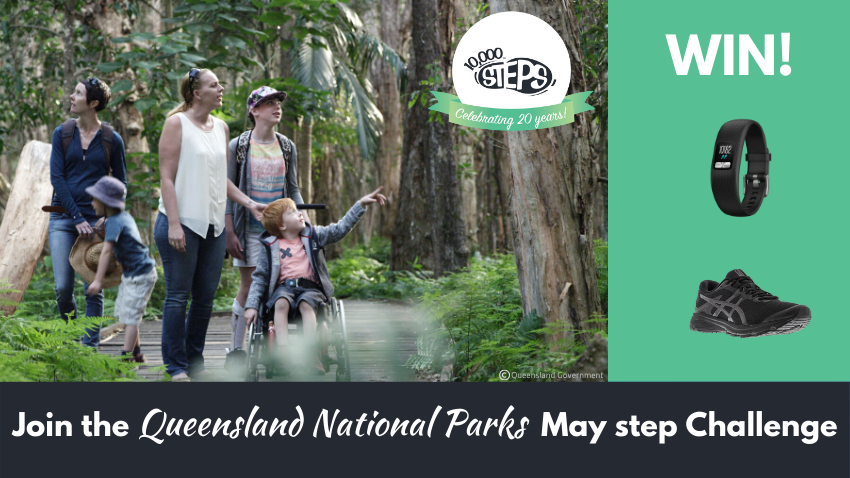 We are so lucky to have many Queensland parks and forests on our doorstep, so why not add a visit as a regular part of your routine? Before work, during lunch or in the afternoon, parks are open any time to help get your heart pumping and escape from the daily grind! The best part? If you visit mid-week, you can beat the crowds!
This Challenge aims to inspire you to move more every day, and to think outside and find a walk, hike or track in a park or forest to help you achieve your physical activity goals. 
Queensland National Parks have a series of inspiring blogs on their Think outside website, with lots of information and helpful hints and tips to prepare for your next outdoor adventure. From short walks to long hikes, wheelchair and stroller-friendly tracks and plenty of other nature-based activities, there's something for everyone. Here are a few of our favourite Think Outside blogs:
For further inspiration, be sure to follow Queensland National Parks on social media and sign up to the monthly Naturally Queensland newsletter, their posts and stories will make you dream about the views and experiences that can be had!
Facebook: @qldnationalparks  Instagram: @qldparks  Newsletter: Sign up form 
If you want to learn more about Queensland's Great Walks and multi-day hikes, visit the Parks and forests - Walking page.
Keen to help others step up to the Challenge? 
Are you looking for ways to help your workers or community members increase their physical activity? We have created a series of toolkits to help you spread the word about our Monthly Challenges - view the Monthly Challenge Toolkits in the support section.
Stay connected on social media. 
Follow us on social media to stay up to date as we share our new monthly Challenges and announce the prize winners.
Facebook: @10000Steps.1   Instagram: @10000Steps_   Twitter: @10000Steps_    LinkedIn: 10000steps
Tag us in your photos to show how you are reaching your daily and monthly goals or simply share our posts to challenge your friends, family and workmates to join and stay motivated to look after their physical and mental health.