Regular physical activity is a proven way to prevent chronic diseases and cancers as well as improve mood, concentration and emotional health. Supportive programs and environments in our workplaces and communities can make it easier for individuals to be physically active. 10,000 Steps has established evidence based resources to assist your workplace or community to promote physical activity. Best of all, access to the 10,000 Steps website and resources is completely FREE.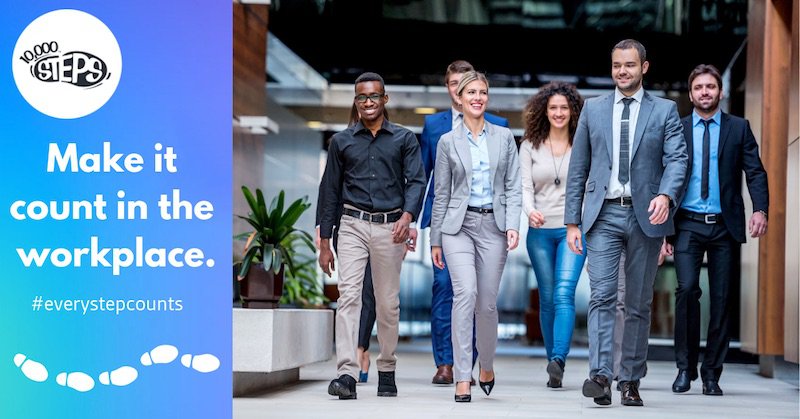 Many of us spend a third of our waking lives at work, and for a lot of us that time is spent sitting. When we combine our busy work life with social activities that don't require us to be active, it's little wonder that we're moving less and not reaping the rewards of being active.
The workplace is a great place to promote healthy behaviours. Current 10,000 Steps Coordinators have found 10,000 Steps to be a useful and easy to implement program that effectively increases the physical activity of their workers.
10,000 Steps Workplace resources include:

Active Workplaces Guide

Highlights how to use the 10,000 Steps resources to plan, implement and evaluate a program to promote physical activity and other healthy behaviours to your workers.
10,000 Steps Tournaments
The 10,000 Steps Tournament aims to:

increase individual's awareness of their physical activity levels
increase physical activity levels
encourage conversation and interest in physical activity
promote incidental activity at work and at home
The Tournament involves forming teams within the organisation. The team members wear pedometers or activity trackers and record steps to complete a virtual walking journey. Team progress is tracked and displayed on the interactive 10,000 Steps website.
For more information about the 10,000 Steps Tournaments view the 10,000 Steps Tournament Brochure and Preparing for a Tournament Information Sheet.

Sign up as a 10,000 Steps Coordinator to find out more about our workplace resources to promote physical activity and create 10,000 Steps Tournaments.
There are many ways in which whole communities and groups within communities can promote physical activity and healthy behaviours. 10,000 Steps can assist you by providing strategies that change the environment to be more supportive of physical activity as well as strategies that provide opportunities for community members to participate in activity.
10,000 Steps Communities strategies include:
Walkway signage
Dog walking strategy
Community Tournament
Promoting your 10,000 Steps
For more information about the Community Resources view the 10,000 Steps Community Resources brochure.

Sign up as a 10,000 Steps Coordinator to find out more about our community strategies that are designed to help create a healthy, active community.