Our Vision
To lead the transformation of Australia's food habits through advocacy, program delivery and collaboration to maximise the health, wellbeing and productivity of communities.
About The Good Foundation
The growing list of health problems caused by poor diet and lack of food knowledge and skills affects all Australians. Obesity is now one of the nation's most significant health issues. The Good Foundation was established in 2010 to focus on programs and projects that promote good health and nutrition, with the first priority program being Jamie's Ministry of Food. Cooking is an important life skill which everyone should learn. With the right sort of information and teaching, anyone can learn to cook. Cooking empowers people to take control of their lives and health.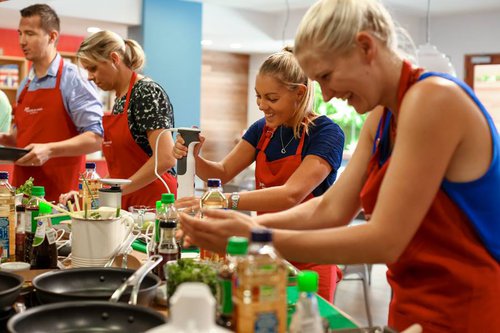 About Jamie's Ministry of Food's programs 

Jamie's Ministry of Food's 5-week programs are available both online nationwide and face-to-face in locations across Queensland.
Over 5 sessions participants will learn to make key recipes that cover every meal; from breakfast and sides to lunch and dinner. Taught by professional food trainers, participants will learn:
Knife skills and techniques to make it simpler and quicker to cook delicious meals from scratch
How to bring the best flavours out of fresh ingredients
How to meal plan on a budget so your food goes further
Book a course today to learn how to get the most out of your pantry by cooking delicious healthy meals! 
Learn more about how to get cooking with Jamie's Ministry of Food (informational flyer).