Only Coordinators with approved Coordinator registration have the ability to create Tournaments. You can register as a Coordinator and access our Tournament Resources to assist with the planning, implementation and evaluation of your initiative. 
If you would like to add teams to an existing Tournament go to your Coordinator Access Card and click View Tournaments.
1. Login and go to the Dashboard. 
2. Scroll down to your Coordinator Access Card and click 'Create a Tournament'.
3. Select a Time Out Tournament.
4. Set the Tournament details.
Set the Tournament start date, end date and give your Tournament a name. 
Weight and Waist Measurements
Select if you would like to track overall weight loss and waist girth loss during the Tournament. This means that any measurements that your participants add to their Health Measures will be accumulated on your Tournament leaderboard.
Participation in a Health Challenge
If there are currently no active Health Challenges being run on the 10,000 Steps website then your Tournament will default to not participating in a Health Challenge.
If you are participating in a Health Challenge on the 10,000 Steps website and would like your Tournament to be shown on the Health Challenge Leaderboard, please choose the Health Challenge from the drop down list. We recommend selecting to track weight and waist girth loss if your Tournament is a part of a Health Challenge.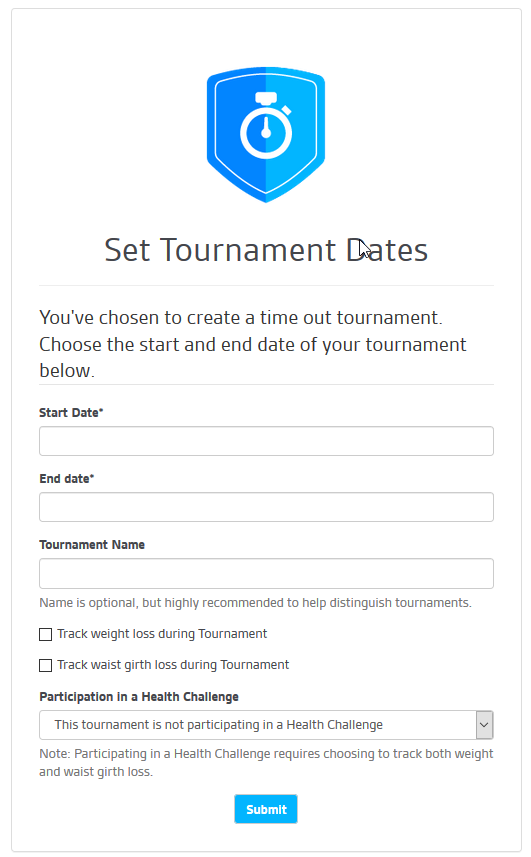 5. Add a team to the Tournament.
Choose your preferred team size. We recommend having between 10 and 20 members per team. Teams can have up to 500 team members. You can add up to 500 teams.
6. Enter the team details.
Enter the team name, Team Captain's email address and select a unique team colour.
All Team Captains and participants must be registered with the 10,000 Steps websites before they can be added to the teams using their unique (preferably organisation) email address. We recommend having this information recorded beforehand.
7. Select "Add team member".
Add an online team member using their email address. This links an individuals account to the Tournament for the duration, any steps logged in the individuals account will automatically be added to the team.
8. Enter the participant email address and save.
The team member being added must be registered with the 10,000 Steps website before you are able to add them to your team. If you receive an error and are unable to add a participant to your team, it may mean:
that person is not registered with 10,000 Steps
that person might be registered with personal email addresses instead of organisational addresses
that person may have registered with an address that contains a spelling mistake
your entry of the email address may contain a spelling mistake.
If you are unable to rectify the issue with the participant directly, please contact us with the participants name and email address so we can verify if they are registered with the address you are entering.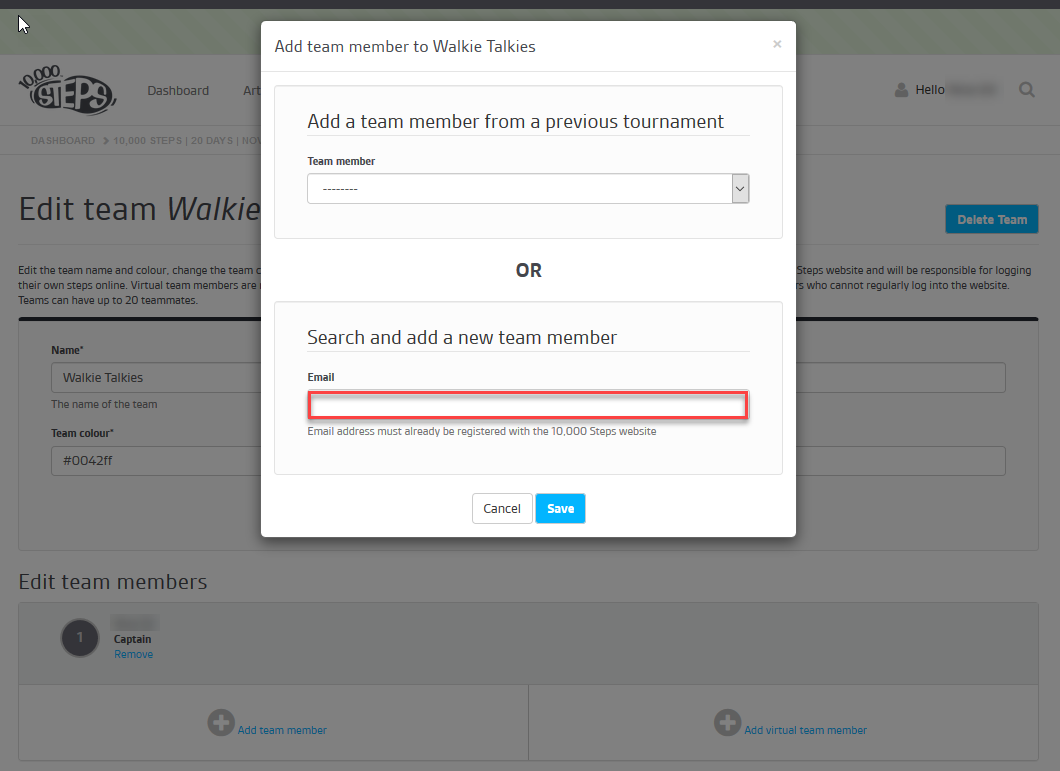 9. If needed, you can add a virtual team member.
The option to add a virtual member is designed for users who do not have regular internet access or who are not able to log their own steps. The addition of a virtual team member requires the Team Captain to log steps on their behalf.
For more information on virtual members see the following Support topics:
10. Enter the virtual member details and save. 
11. Navigate back to the Leaderboard to add more teams.
From the Leaderboard you can repeat this process to add more teams.
12. Viewing your Tournament.
After you initially create a Tournament it will be accessible under your Account > Tournaments or under your Coordinator Access card on the Dashboard. This section is for Coordinators only to enable the management of multiple Tournaments.
If you are added as a participant, the Tournament can be accessed through your Dashboard either in the Upcoming Tournaments section for Tournaments which have no yet started. 
Once your Tournament has started you will be able to access it on your Dashboard.