In today's fast-paced society it can be challenging for parents to find the time (and let's face it… the energy), to prioritise their own physical health and wellbeing. We know that it's beneficial to lead an active lifestyle, not only for physical and mental health but also to be a role model for our kids. Unfortunately, the research shows us that parents are less active than non-parents and mothers are less active than fathers (1). The main barriers to being physically active for parents include a lack of time, fatigue and childcare obligations.
One strategy that might help us overcome some of these barriers is parallel participation. The concept of parallel participation is similar to parallel play in young children, where two children play near each other but are not actually playing with each other. As kids develop and learn to cooperate, they start to play and interact with others.
Parallel participation involves parents taking the time to be physically active either in the company of their children, or while they are nearby.
Parallel participation will change as your children grow and develop, but here are some ideas matched with children's ages. Remember, the ages and stages are only indicators – your mileage WILL vary!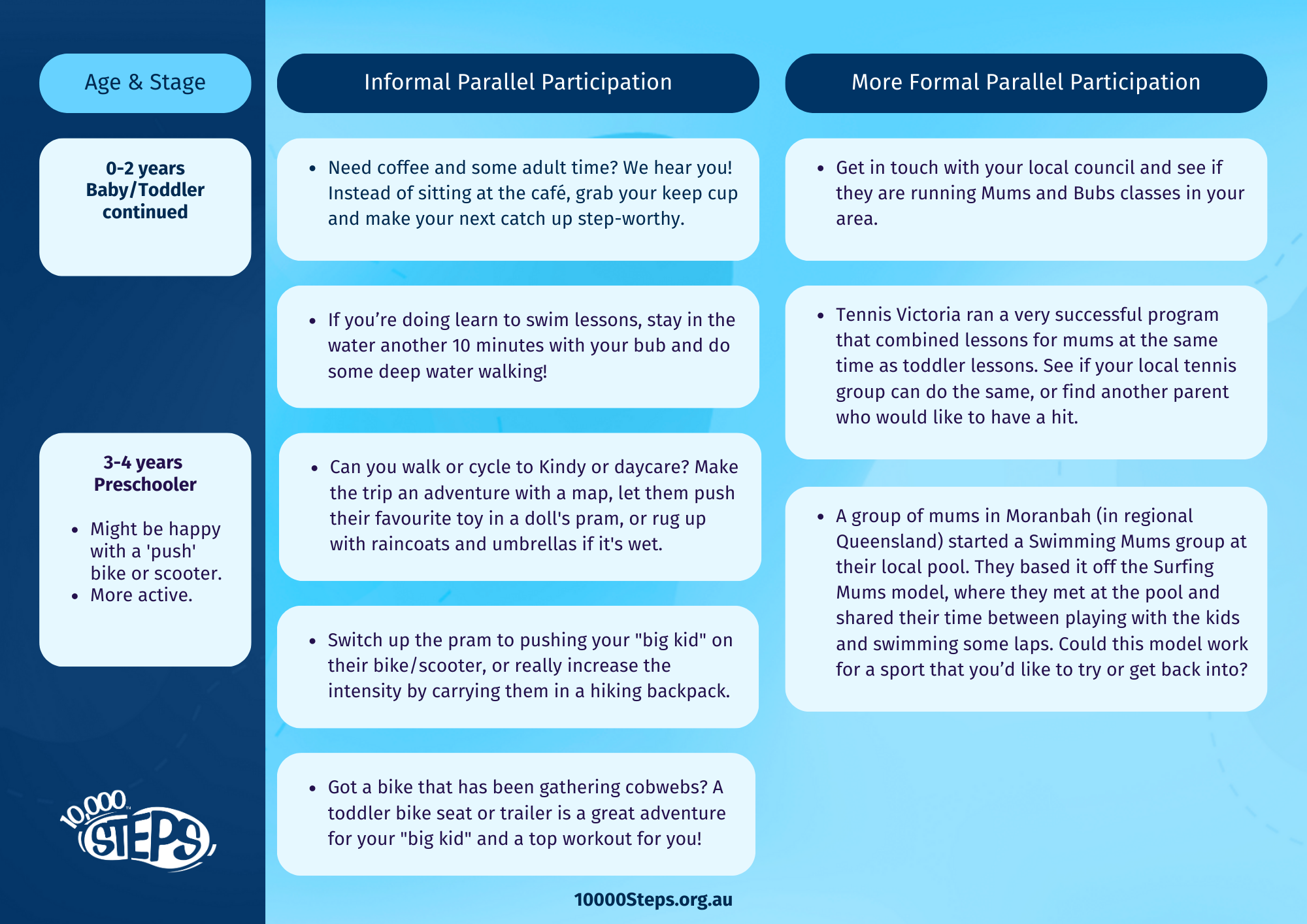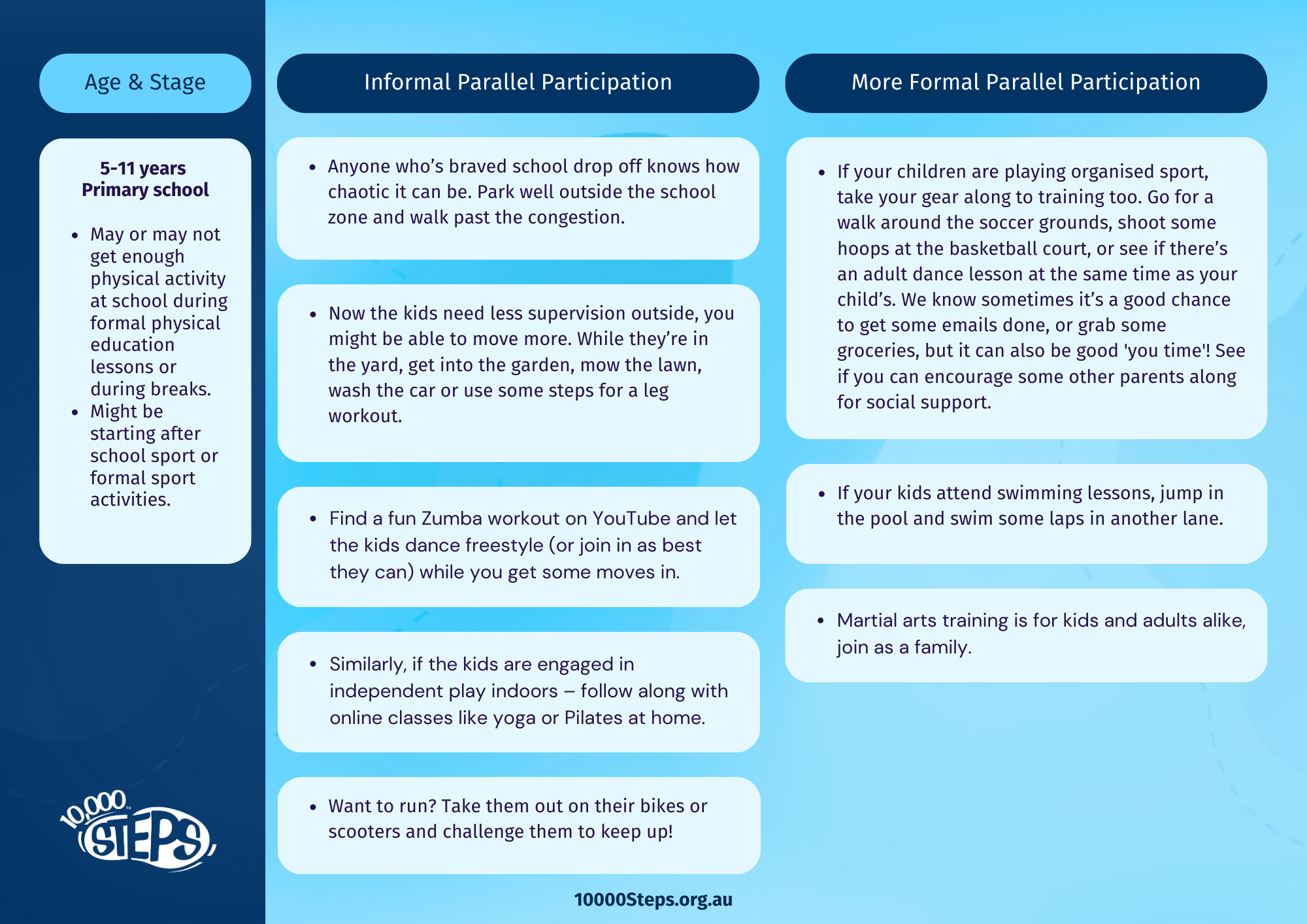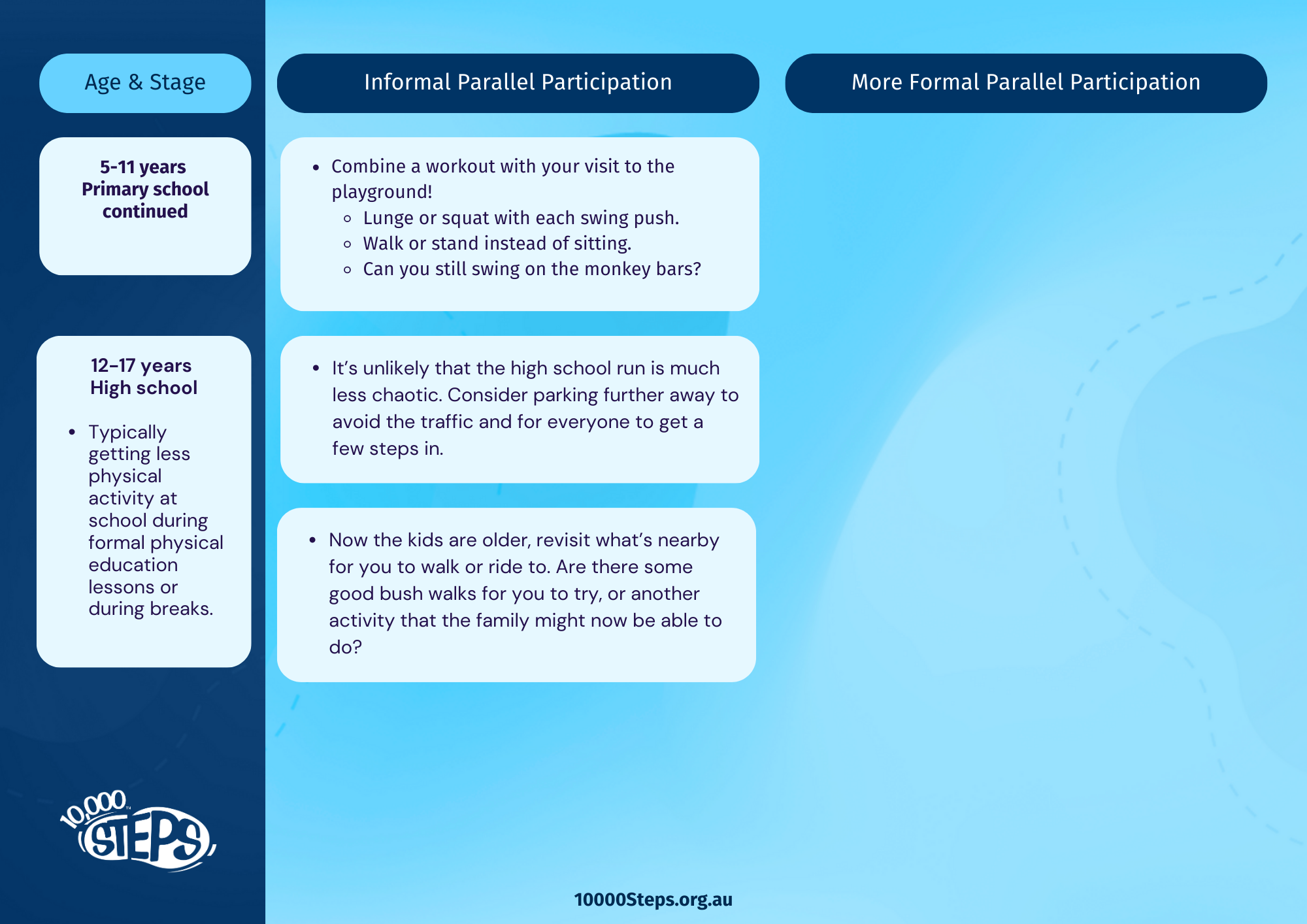 Download a PDF version of the above parallel participation ideas matched with children's ages.
We're. Just. Not. All. That. Sporty.
That's perfectly fine! You don't have to do sport to be healthy and active. It's all about finding something that you (and your kids) enjoy doing. Plus the beauty of doing things in parallel, is that the activities you each choose don't have to be the same thing - you'll be doing your thing while they do theirs.
Parallel participation is all about optimising opportunities for your physical activity when the kids are engaged in their own.
This might be skating (on blades, board or rollers), a gym circuit, bird watching, whatever floats your boat – what about kayaking, stand up paddle boarding or sailing?
These ideas are all simply a starting point for parallel participation with children of all ages. You can adapt the activities to suit your family's interests, preferences, and the availability of resources in your area.
Bonus ideas
While not strictly parallel participation, here are some ideas for other activities parents and kids can enjoy together:
Go retro and get into some elastics, hopscotch, skipping or a frisbee. It's a lot of fun!
Gross motor skills aren't just about sport, they help kids in all areas of life but are declining. Spending time in your yard or at the park throwing, catching, climbing, balancing and jumping together can help you both.
Never underestimate the workout and bonding power of a game of handball!
Just dance! Turn screen time into active time with a dance party
Game on! Apps like Pokemon Go, Zombie Run! or The Walk combine screen time with movement time.
Step things up. How about a family step challenge? Apps such as 10,000 steps have tournaments with leaderboards. You can challenge other families.
Always wanted to do a charity walk or fun run? Make it a family affair and train together.
Parkrun is a great start to the weekend, with participants of all abilities running (or walking) 5km on a Saturday morning. And it's free!
Want to combine learning and walking? Try geocaching
Unleash your inner child and join in at the waterslides with your kids. Those steps are a great workout.
Can you and your kids join a social netball or football team together?
How about taking games night outside? High schoolers are less likely to play outside spontaneously but Bocce or Finska might drag them outdoors
And there are many more practical and fun ways to be physically active with your kids.
References:
Bellows-Riecken, K. H., and Rhodes, R. E. (2008). A birth of inactivity? A review of physical activity and parenthood. Preventive Medicine, 46(2), 99–110. https://doi.org/10.1016/j.ypmed.2007.08.003
About the author
Dr Danya Hodgetts is a Sport Management consultant, educator and researcher who works in both the sport industry and academia. Over her career, she has worked at all levels of the sporting pathway, as well physical activity initiatives targeting the broader community. She is currently a Research Fellow at Central Queensland University, where she is managing a research project implementing artificial intelligence and behaviour change mechanisms to increase physical activity.
Danya has published research into the legacies left by prior Olympic and Paralympic Games and continues to research in event legacy. She is a member of the Brisbane 2032 Olympic and Paralympic Games Legacy Committee and she is driven to ensure that Brisbane2032 is used to deliver positive outcomes across all communities in Queensland, with a focus on regional areas.
Danya is passionate about sport and its ability to generate social, real change. Danya is a current patrolling member of Emu Park Surf Life Saving Club and a volunteer committee member with Rocky City Swimming Club and Surfing Mums Australia.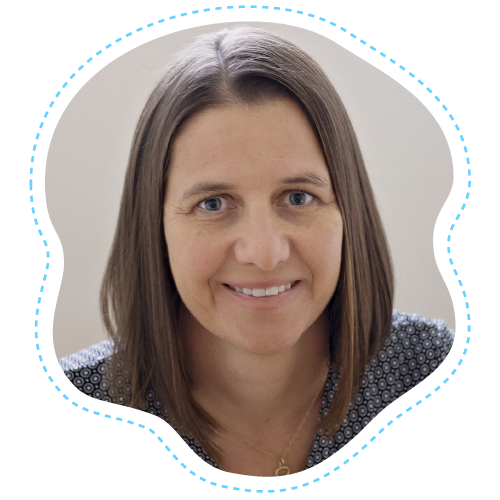 The Activate Your Everyday Series is proudly supported by the Queensland Government and Health and Wellbeing Queensland through ActiveKIT Round 2