South Australia's 2023 Billion Steps Challenge
Congratulations, we hit one billion steps!
Wellbeing SA and 10,000 Steps challenged all South Australians to get involved in the fourth annual Billion Steps Challenge in October 2023.
Our South Australian members stepped together and tracked their steps by finding more ways to move each day and completed the Challenge in a record time of just 29 days, beating last year's effort.
Whether you stepped on your own, together with friends or in a team at work, thank you for getting involved in the 2023 Billion Steps Challenge and contributing to healthier, happier families, communities and workplaces.
From South Australia? Join us in reaching our 1,000,000,000 steps goal!
Login or Sign Up
Congratulations South Australia! Together we successfully reached the 1,000,000,000 challenge goal in 29 days!
Challenge Start
Oct. 1, 2023
Challenge Steps
1,000,205,752
Challenge Goal
1,000,000,000
About the Challenge
South Australia's Billion Steps Challenge was a goal-based step challenge that started on Sunday October 1, 2023. All steps and activity logged by South Australian members during October 2023 were automatically combined and tracked towards the 1 billion steps goal until the goal was reached on October 29.
Keeping Active Beyond the Challenge
A walk can work wonders for your mood, mental health and state of wellbeing. Even though the Challenge has finished, continue to track your steps and activity to gain the benefits of physical activity! Keep finding ways to move throughout your day by parking further away, standing where you can and taking a break to walk. Here are a few helpful links to support you to maintain your activity level:
Continue to share with us how and where you are getting your steps throughout the day by tagging us on Facebook and Instagram.
#10000Steps #EveryStepCounts #EveryMoveCounts
The 2023 Billion Steps Challenge has motivated me to meet daily walking goals. My physical health this year has improved considerably. My blood pressure is lower, as is my heart pulse rate. I feel better and a scan shows that I no longer have a fatty liver! The most important thing for me is logging in daily, or every couple of days, and adding my steps. Even if no one else knows how many steps I walk, I know. Checking my progress on each month's challenge is enough for me. And in all the time I have been part of the Million Steps Challenge group, I have met each month's goal.
I did very little physical activity in the 12 months prior to undertaking this challenge. It has motivated me to increase my physical activity and improve my overall health. I feel like I have so much more energy now, I am really happy to be feeling this way and I owe it to participating in this challenge.
I've struggled to walk in the past, this challenge made me get out and walk no matter what. I enjoyed being responsible for tracking my steps towards a goal. I am happy to walk alone, in silence and enjoy the beautiful scenery, wildlife and discover new walking tracks.
I found this challenge to be a fantastic motivator to get active. I normally sit at a computer desk every day. I have been walking in my lunch break & taking my dog for a walk after work. I feel so much better mentally & physically!
This was, overall one of the best things we have done as a team. This challenge brought 35 staff from across various TAFE SA campuses together with a common goal. We had our own 'newsletters' and encouraged staff to send in pictures of them out stepping. We shared pictures, tagged each other in social media and watched our steps grow. We went for group walks during breaks, which meant people moved outside and away from their desks, sometimes for the only time that day.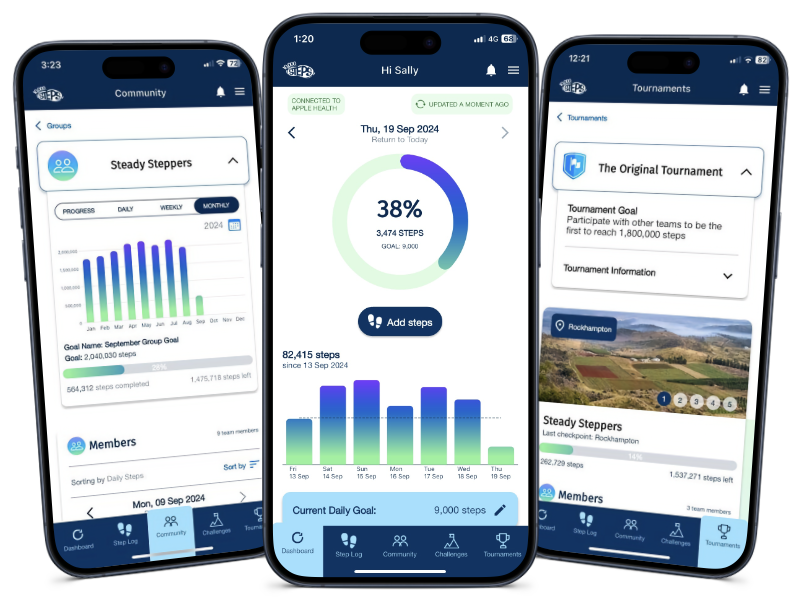 10,000 Steps App
Keep your steps up-to-date by logging with the 10,000 Steps mobile app.
Log your steps and activity
View your step statistics over time
Track your progress in Challenges
View your Tournament Leaderboard
Apple Health integration on iOS
Available for iOS and Android devices