South Australia's 2022 Billion Steps Challenge
Your mission has been completed!
Congratulations South Australia! Together we stepped our way from Earth to the moon and back, reaching the goal of 1 billion steps in just 30 days. Thank you for taking part in the 2022 Billion Steps Challenge, we hope it inspired you to find more ways to move each day!
Would you like to go in the draw to win a Garmin Venu SQ Smart Watch to keep your activity on track? Take a few minutes to share your thoughts on the Challenge in the Post Challenge Survey. Your feedback will assist us to evaluate the Challenge and make improvements in the future.
From South Australia? Join us in reaching our 1,000,000,000 steps goal!
Login or Sign Up
Congratulations South Australia! Together we successfully reached the 1,000,000,000 challenge goal in 30 days!
Ready for a new Challenge?
Join our November Challenge through England! Each month there is a new Challenge in a different part of the world. Choose from one of four options of varying lengths and continue to step towards your journey goal. We give away a pair of Asics and Garmin each month to two lucky members who complete their Challenge journey.
We are here to support you to be active all year around!
Beyond the Challenge.
There are still plenty of ways to keep your activity on track now that the Challenge has been completed. Here are a few links to support you to stay active!
Find your motivation.
Find a place to be active.
Find programs and resources to help.
Challenge Start
Oct. 1, 2022
Challenge Steps
1,000,019,144
Challenge Goal
1,000,000,000
What our 2022 Challenge participants had to say...
Since joining the challenge for the first time in 2021, starting tracking my activity was the first step in me accessing help to lose weight and get healthy. Since then I have lost almost 30kg's with the help of a dietician and GP. I am healthier, more active and have some control over my health now.
It becomes part of the daily mindset.
Our teams got quite competitive and that encouraged us to keep track of our steps and encourage each other. We had a casual walking group that took a 30min walk at lunch and that has continued after the challenge ended.
It has made me make more of a conscious effort to get up and walk around the workplace during the day as well as then making sure I went walking for exercise most evenings which has made me feel physically and mentally healthy.
It has brought a team together to motivate each other to keep active. It has helped me to step away from my desk and have a better balance of activity and sedentary behaviours.
Built rapport and relationships within the workplace, associated with people I didn't know previously and allowed for some friendly competition.
More aware of how much time I spend sitting and how easy it is to do a little bit regularly to build up my steps for the day. Great motivation to be a part of a Team.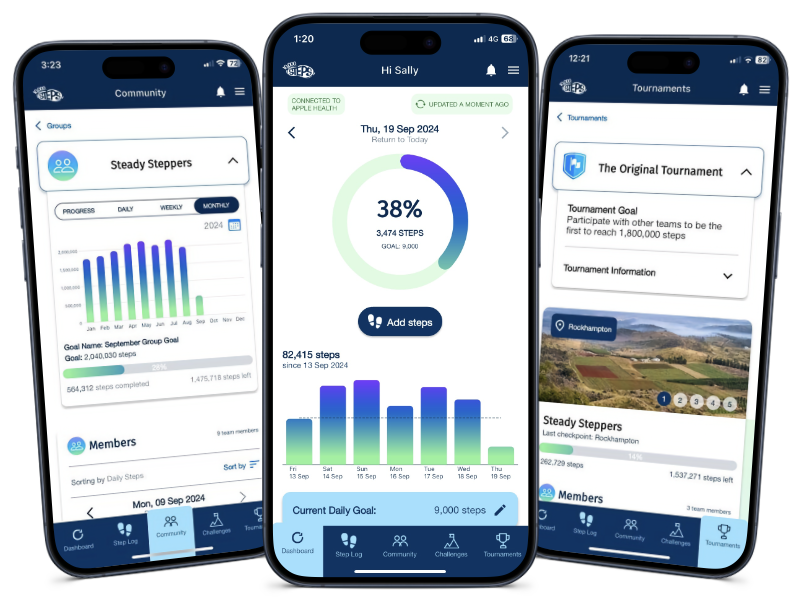 10,000 Steps App
Keep your steps up-to-date by logging with the 10,000 Steps mobile app.
Log your steps and activity
View your step statistics over time
Track your progress in Challenges
View your Tournament Leaderboard
Apple Health integration on iOS
Available for iOS and Android devices
From a workplace or community group and looking for more information?
Access additional details and resources to get your organisation stepping in the Billion Steps Challenge.
View