The Billion Steps Challenge
CONGRATULATIONS Queensland!! We smashed our billion steps goal in only 32 days!
Queensland - let's keep Boosting our Healthy!
The Challenge was set on 2nd May and Queenslanders certainly delivered, stepping together to achieve the one billion step target in only 32 days!

We know that every step counts and the more we move, the more health benefits we reap! So, we encourage you to keep challenging yourself, your friends and workmates to log steps and stay motivated to achieve your daily step goal.
Remember, whatever physical activity you do, it's all movement, it's all good for you and if you track it, you're more likely to maintain an active, healthy lifestyle!
From Queensland? Join us in reaching our 1,000,000,000 steps goal!
Login or Sign Up
Congratulations Queensland! Together we successfully reached the 1,000,000,000 challenge goal in 32 days!
What is The Billion Steps Challenge?
The Billion Steps Challenge was the first Big Boost initiative delivered under the  Boost your Healthy  campaign for Queenslanders to step together and stay active and healthy during COVID-19. We encourage you to stay motivated to enjoy the benefits of a healthy lifestyle by checking out the latest Big Boost initiatives!

Keep boosting your activity - Every step counts.
Tracking your steps is a great motivation to keep moving through the day. Finding new ways to stay active now our daily routines have changed is something we are all adjusting to. Set yourself a daily goal and use a pedometer, fitbit, garmin or other activity tracker to stay on track. Whether it's a planned walk that you do regularly, wheeling around your neighbourhood or incidental movement across the day like stepping away from your work for 10 minutes or jumping on the tramp with the kids, the more you move - the better your body and mind will feel!

How do I get involved beyond the billion?
Quick answer: Log your steps and join the monthly Challenges on the 10,000 Steps website. 
Whether you're a walker, a shuffler, a wheeler or a jiver, physical activity releases happy endorphins for us all and we want you to stay involved! We encourage you to strive to reach and increase the amount you are moving daily.

Log your steps and physical activity on the 10,000 Steps website and explore the Dashbaord to find features that suit you. We have leaderboards, Friends, monthly Challenges for individuals and the ability for workplaces and communities to create teams and start step Tournaments!

Just because the billion steps have been achieved, the 10,000 Steps team are committed to continuing to support and inspire Queenslanders, like we have been doing for over 19 years! Checkout our pedometers if you need one and visit our Support section for other FAQ's.
Challenge Start
May 2, 2020
Challenge Steps
1,087,857,347
Challenge Goal
1,000,000,000
How do I stay active when COVID-19 restrictions are easing?
If we are healthy and well, we should be staying active. It is important for both our physical and mental health as well as reducing our long term risk of chronic disease.

Sitting less and moving more throughout the day is also important for us and for this you don't need to leave your house - have a dance in your lounge room, go for a stroll around the garden, set a reminder and walk on the spot for 2 minutes every hour.  As the restrictions ease, maintain this mindset and find opportunities to incorporate walking and movement into your day. But most importantly try new things until you find what works for you - do it because it helps you to feel great!

For specific health advice and information, visit the Queensland Government and Australian Government websites. 
Boost your Healthy
Health and Wellbeing Queensland has created the Boost your Healthy platform, which brings together ideas, activities, information and challenges from a wide range of alliance partners, all designed to inspire you to Boost your Activity and stay healthy during COVID-19.
Share your progress
Continue to share your photos and let us know about your progress by using the Challenge hashtags #10000Steps #EveryStepCounts #BoostCampQld.
Let us share in your fun by tagging @10000Steps.1 and @healthandwellbeingqld in your social media posts.
Our Billion Steps Ambassadors
Our Billion Steps Challenge Ambassadors signed up to the challenge to inspire you to boost your activity and help Queensland reach our goal of one billion steps. We thank them for their involvement and their inspiring quotes that still ring true beyond the billion. Their step tally's also show that some people are super active (congrats Robyn for logging the most steps), but that for an individual, it's about setting your own goals and staying active to be the best version of yourself.

They have also provided some entertainment around pushing ourselves that little bit more - after all, there's nothing wrong with a little 'healthy' competition is there?!

Robyn Littlewood
Every Queenslander has the right to better health and I am relentless in achieving this.
An experienced leader, researcher, clinician, academic and educator, Robyn has worked extensively across all levels of paediatric obesity prevention, nutrition and dietetics, from one-on-one consultation with children and families in her clinic to leading multi-disciplinary teams on statewide initiatives.
Nat Cook
Let's get together, work that counter overtime and push towards the Billion Steps. Come on Team Queensland!
Natalie Cook OLY is a 5 time Olympian and Olympic Gold Medallist in Beach Volleyball. Currently Executive Director of Elite Success and Partnerships in the Department of Housing and Public Works, Nat is renowned globally as a high performance speaker and loves to motivate people to maximise their potential.
Jodie Fields
A strong body gives you a strong mind and happy heart.
Former Australian Women's Cricket Captain, Sport Administrator, Brand Ambassador, Speaker and walking advocate, Jodie was the first Queensland woman to captain the Australian Women's Cricket team. She successfully captained for five years and was named Queensland Sportswoman of the Year in 2013.

Craig Zonca
Get up and get active – that's my motto. Make the most of where you live and explore on foot, take those extra steps when you can.
Craig co-hosts ABC Radio Brisbane's Breakfast program, setting the alarm at 3am each weekday. When he's not behind the microphone, he's often found on a bush track somewhere in south-east Queensland.
Steve Renouf
I choose to eat healthy and stay active to keep my diabetes under control.
Steve is a Gunggari and Gubbi Gubbi man and an ambassador for the Deadly Choices program. He holds the record for most tries for the Broncos (142), playing 212 Broncos Games, 11 Queensland State of Origin games, 9 International Australian Rugby League Tests, and was part of 4 premiership winning teams for the Broncos. As a Deadly Choice Ambassador, Steve is an inspiration and fantastic role model. His favourite meal is garlic prawns cooked on the BBQ and favourite exercise is going for a walk.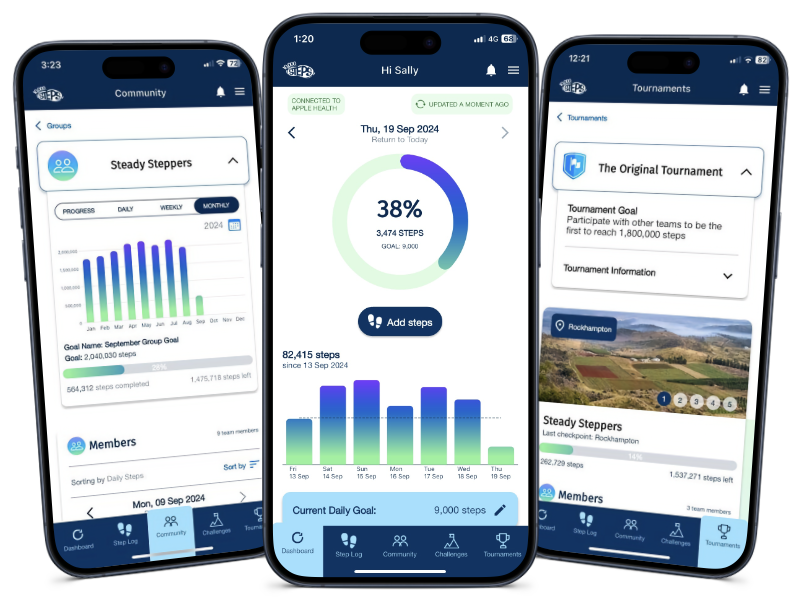 10,000 Steps App
Keep your steps up-to-date by logging with the 10,000 Steps mobile app.
Log your steps and activity
View your step statistics over time
Track your progress in Challenges
View your Tournament Leaderboard
Apple Health integration on iOS
Available for iOS and Android devices