Congratulations! South Australia, together you reach the 1 billion steps goal in 35 days.
South Australia's Billion Steps Challenge
Together, 10,000 Steps and Wellbeing SA brought South Australians together for the 2021 Billion Steps Challenge to encourage each other to find more ways to move throughout the day. 
South Australia's 2021 Billion Steps Challenge started on the 1st of October 2021 and was completed in 35 days when the billion steps goal was reached (29 days faster than in 2020)! The total steps and activity logged by every 10,000 Steps member located in South Australia was automatically tallied throughout the Challenge towards the billion steps goal. 

Wellbeing SA is committed to supporting the health and wellbeing of all South Australians. Every step that we take counts towards being healthier and happier. The more we move our bodies, the more physical and emotional health benefits we gain. Physical activity strengthens our muscles and bones, improves our posture and balance, helps us to sleep better and boosts our mood. 
From South Australia? Join us in reaching our 1,000,000,000 steps goal!
Login or Sign Up
Congratulations South Australia! Together we successfully reached the 1,000,000,000 challenge goal in 35 days!
Staying active beyond the Challenge.

We hope that you have been able to find ways to add more activity to your day, so you can continue reaching your step goal beyond the billion.
Set yourself a daily goal based on your current activity level. 
Use a pedometer, Fitbit, Garmin, Google Fit to track your activity and view your Step Statistics over time.
View and share our Articles to learn more about being active.
Join our Monthly Challenges for the chance to a pair of Asics or Garmin each month.
Connect your account with Friends to compare your weekly and total steps to keep each other motivated.
Plan a Tournament within your organisation to step together in teams for a bit of healthy competition.​
Check out the resources on the Wellbeing SA website.
Challenge Start
Oct. 1, 2021
Challenge Steps
1,028,435,450
Challenge Goal
1,000,000,000
What our 2021 Billion Steps participants had to say...
The 10,000 steps challenge motivated me to be more active, every day. Logging my steps made me aware of just how active/ inactive I was on any day.
My Billion Step Challenge helped me to see that even if I was 'stepping' out myself, I was not alone. Whilst it helped me physically and mentally to complete the challenge - I was also contributing to a State wide goal - and that felt good.
It provided a forum for friendly competition and banter in the workplace. The challenge helped to keep me moving throughout the day, including on the weekends. It has also motivated me to continue aiming for my personal goals after the challenge was completed.
Just great to have the staffroom chats about how we were going with the challenge and the various ways we were trying to add steps to our day. For example, parking the car further away in the carpark, walking the dog, going for walks during breaks at work.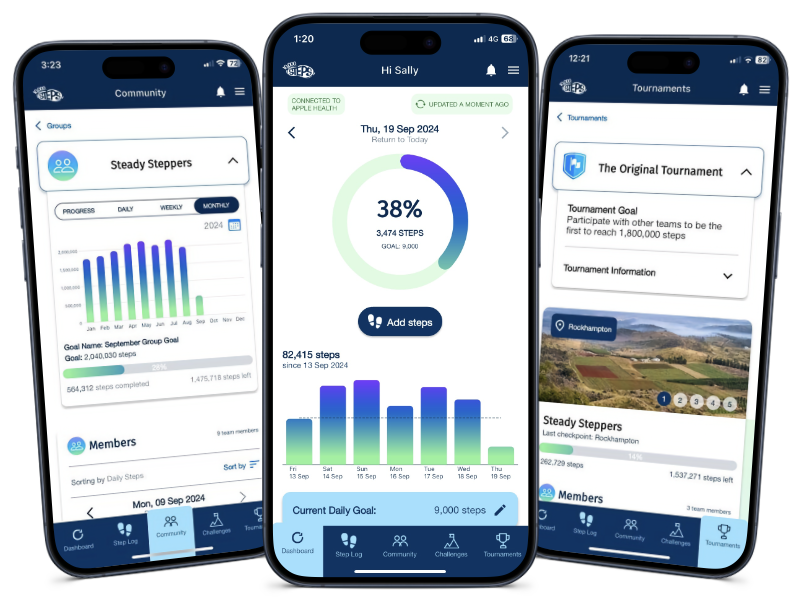 10,000 Steps App
Keep your steps up-to-date by logging with the 10,000 Steps mobile app.
Log your steps and activity
View your step statistics over time
Track your progress in Challenges
View your Tournament Leaderboard
Apple Health integration on iOS
Available for iOS and Android devices