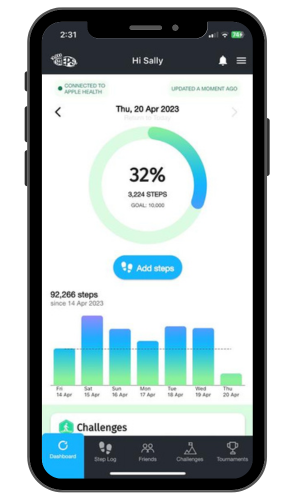 On This Page
Download the Mobile App
Complete the Welcome Tour
Create Your Account (New Members)
Confirm Your Email (New Members)
Mobile App Log In
Mobile App Features
Additional Online Features
1. Download the 10,000 Steps Mobile App
Delete any previous version of the 10,000 Steps mobile app
Ensure your mobile phone software is up-to-date
Download the 10,000 Steps app from Apple Apps or Google Play
Apple requires iOS 8.0 or later
Android requires OS 6.0 or later
If you encounter any issues downloading the 10,000 Steps mobile app or have feedback for the program please Contact Us.
2. Complete our short Welcome Tour
Click through to learn more about our mobile app features
Check this tour for new or updated features when updating the app
Click Skip Tour to go straight to our Welcome Page and Login
If you are a new member, this tour explains some of the ways you can use our program. If you are updating the app from an older version, this tour may show you new aspects of the app.

Existing Members Skip to Login
3. Create your 10,000 Steps Account (New Members)
Select "Sign Up" on the Welcome Screen, or click here to Sign Up online
Fill in the Sign Up form taking note of the email address and password used to sign up
Use your work email address if participating in a Tournament within in your workplace
If you get an error, you might already have an account so try logging in instead
4. Confirm your email address (New Members)
Please check your email inbox for a verification email from admin@10000steps.org.au
If you don't see it in the first 15 minutes, please check your junk/spam folder
Click the link in the email (or copy-paste into a web browser) to confirm your email
If you're using an organisation email (for example, name@workplace.com), please check for mail filters or "Messages on Hold" facilities that often delay our verification emails. Contact Us if you don't receive your confirmation email within 24 hours. You may need to use a different email address to sign up with us.
5. Log in to 10,000 Steps
Open the 10,000 Steps mobile app and enter your email and password
Click "Remember Me" if you would like to stay logged in between sessions
Click Login on the bottom right of the Welcome Page
You can also click "Forgot Password" to send a password reset link to your email. Click our Support Page to view information on login issues and other helpful information.
Welcome to the 10,000 Steps mobile app!
Find out more about:
You can also use the 10,000 Steps program through our website!
Additional features available on our website include:
You can also Submit a Member Story to inspire other members on 10,000 Steps!