This guide is for members logging steps or activity using manual entry on the 10,000 Steps app.
If you are looking to sync steps from your 3rd party device (for example, Garmin or Fitbit), please see:
If you are looking to sync steps from Apple Health/Health Connect only, please see:
1. Ensure you are logged in to the app and viewing your Dashboard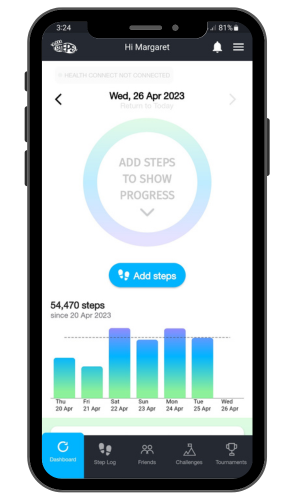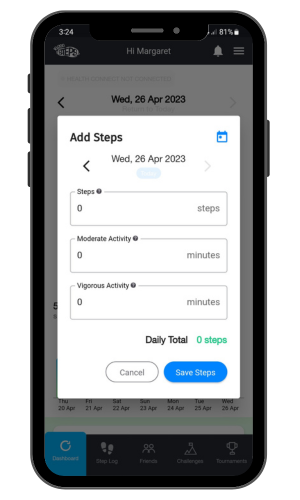 3. Add your steps
Add your steps without any commas or full stops.
If you would like to add an activity other than walking, enter the duration in minutes and add it to the Moderate or Vigorous Activity columns. This will modify your step count accordingly.
Moderate-intensity activities cause a slight, but noticeable increase in breathing and heart rate. During this type of activity, you should be able to maintain a conversation. During vigorous or high-intensity activity, you will "huff and puff", talking full sentences between breaths will be difficult. The wide variation in different types of exercises performed, the intensity worked and individual fitness level all impact on how extra activities are recorded on the 10,000 Steps website.
There is no simple, one size fits all method of logging with such large variation in contributing factors. It is up to each participant to enter their steps and time in moderate and vigorous columns to most accurately reflect the activity.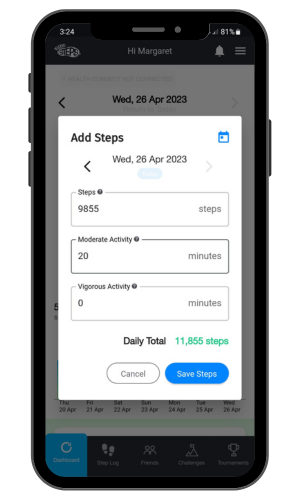 3. Save your steps
Record your steps and activity by selecting 'Save Steps'. You can now view your step count on your Dashboard.
Forgot to record your steps for yesterday? Use the arrows beside the date to select the correct date. Enter your steps accordingly and 'Save Steps'.
3. Updating your steps
If you need to amend the steps recorded, simply follow the same step-by-step process and make the necessary edits to the number of steps originally recorded.
Find out more about:
You can also use the 10,000 Steps program through our website!
Additional features available on our website include:
You can also Submit a Member Story to inspire other members on 10,000 Steps!