Congratulations Queensland! Together we successfully logged 1,486,259,074 steps in 31 days!
About the Steps Challenge
The Queensland Walk Explore Steps Challenge is a key activity within Queensland Walks Month. It's a month-long physical activity challenge starting on Tuesday 1st of August 2023. The step total from 10,000 Steps members located in Queensland will be automatically tallied during the Challenge. The Challenge will be completed on Thursday 31st August.
People of all abilities can participate. Whether you walk, run, roll, stroll, swim, cycle or dance - however you choose to be physically active, all activities count and every move matters!
Workplaces, Communities and Stakeholders can also use our CHALLENGE RESOURCES to get involved.
Challenge Progress
Challenge Start
Aug. 1, 2023
Challenge Steps
1,486,259,074
Challenge End
Aug. 31, 2023
Queensland, this one's for you!
10,000 Steps and Queensland Walks are excited to bring the state together during Queensland Walks Month 2023 for a fun Steps Challenge.
We are inviting every person in Queensland to join us from 1st August and log as many steps together as we can, while we walk and explore our beautiful state! Walk, run, roll or stroll with your family, friends and workmates and make every step count.
Last time we had a state-wide challenge, we reached 1 billion steps in 32 days, can our Queenslander members beat this in 2023?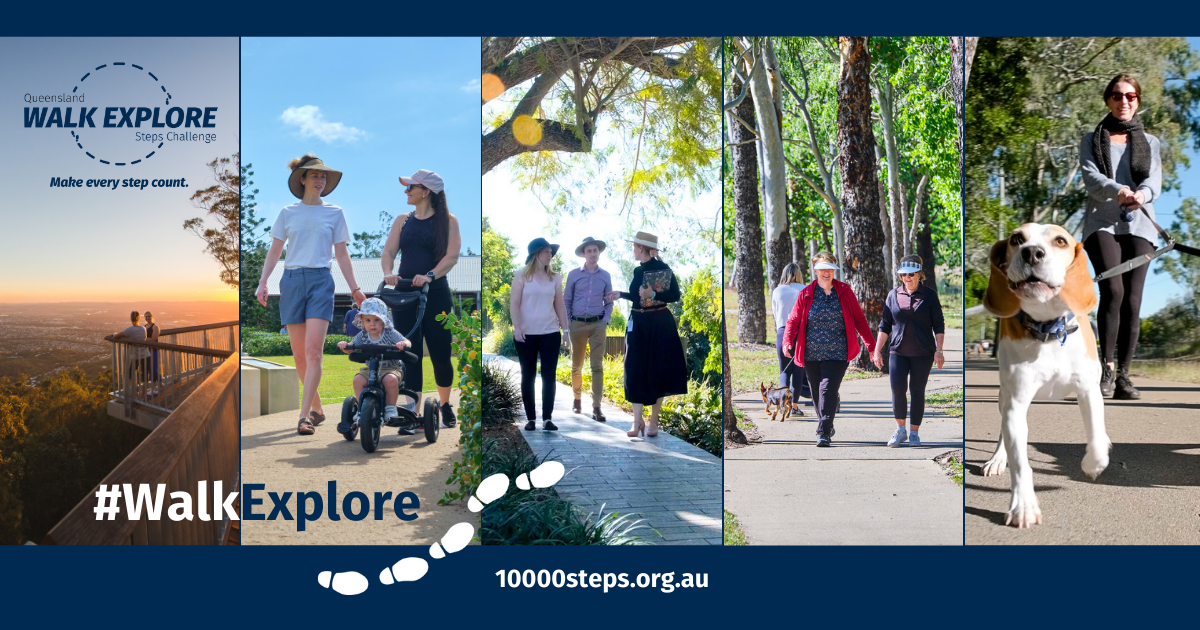 How do I make my steps count?
Get ready to log your steps and join the monthly challenge. Any steps and physical activity you track in your account will automatically contribute to the state's progress. Set your step goal on your Dashboard and start walking, running, rolling, strolling, cycling or swimming. You can enter time in minutes of activity for other activities which may not be counted in steps.
Choose when and how you can fit physical activity into your day or start by looking for those small ways you can make active choices. Need more inspiration? Visit 10,000 Steps website for tips on how to boost your activity.

Log Your Steps
Create your 10,000 Steps account here
Log your steps on our website or mobile app
Our challenge leaderboard is live from 1st August, 2023
Check back here to see how Queensland is going!

Join the Monthly Challenge
Can I get my Workplace or Community involved?
Absolutely! If you're interested in becoming a Coordinator to run a Tournament within your workplace or community, follow the steps below!

Become a Challenge Champion
About Queensland Walks Month
Queensland Walks Month is a free, online celebration of walking, running, rolling and strolling which aims to improve the walkability of our beautiful state.
Walk, run, roll or stroll anywhere in Queensland during August and tell us about your walking experiences, share your photos and reels or engage in our online discussions to help improve the 'walkability' of your neighbourhood and favourite walk spaces for people of all ages and abilities.
Every body, every place.
Learn more about Queensland Walks Month on the Queensland Walks website.
How can I track my physical activity?
Tracking steps and minutes of physical activity can motivate us to find more ways to move throughout the day! Every move counts!
Connect your Fitbit, Garmin or Google Fit accounts in the Tracker Connections section of your profile at 10000steps.org.au.
Connect with Apple Health on the 10,000 Steps mobile app for iOS devices, or Health Connect on Android. Steps and activity tracked using pedometers, smart phones and other devices can be entered manually on the website or mobile app.
Let's connect
Show us how you're moving and share your progress to inspire others to join the Challenge! Tag us in your posts and stories.
#QldStepsChallenge #10000Steps #QldWalks #QldWalksMonth #WalkExplore #EveryMoveCounts
10,000 Steps - Facebook: @10000Steps.1 Instagram: @10000Steps_
Twitter: @10000Steps_  LinkedIn: 10000steps
Qld Walks - Facebook: @QueenslandWalksIncorporated Instagram: @queenslandwalks Twitter: @QueenslandWalks LinkedIn: QueenslandWalks
Contact from us
We'll be sending weekly updates to our Learn & Discover Email recipients on the progress of the challenge throughout August. Please feel free to update your subscription preferences if you do not wish to receive emails during this time.
Proudly supported by the Queensland Government and Health and Wellbeing Queensland through ActiveKIT Round 2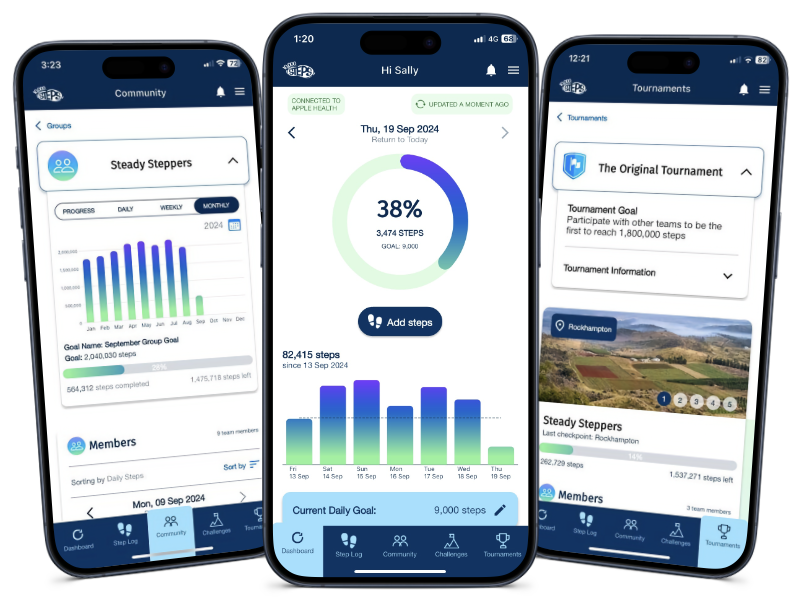 10,000 Steps App
Keep your steps up-to-date by logging with the 10,000 Steps mobile app.
Log your steps and activity
View your step statistics over time
Track your progress in Challenges
View your Tournament Leaderboard
Apple Health integration on iOS
Available for iOS and Android devices